VEGETATED & COMPLEX RIPRAP APPLICATION
Vegetated riprap incorporates a combination of rock and native vegetation in the form of live cuttings. These can be planted in conjunction with the placement of rock used to armour the banks of watercourses or redirect flows.
Establishment of native vegetation will improve fish habitat by creating shade, cover and an input of small organic debris to the stream. In most cases it will negate the need for the regulator to require habitat alteration compensation. It will also provide added bank protection through development of root mass. An additional benefit of this combined technique is a potential supply of fodder for local animal populations.
Adding vegetation to riprap provides a softer more natural appearance to the installed rocks.
Rootwad revetments can also be used in conjunction with these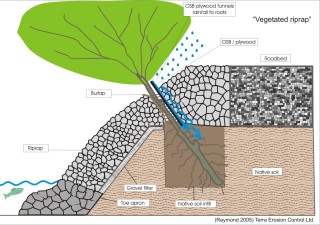 Cross section drawing of vegetated riprap below road